Yoga Virya: Energy for Positive Life
Yoga is the union of PHYSICAL and MENTAL HEALTH.
Live a balanced life with physical wellness and mental calming.
Reduce stress by recognizing the problems, take action to solve the problems one step at a time.
Yoga involves combination movements and breathing techniques that help improve mental focus, balance, strength, flexibility.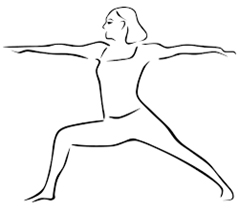 Movements:
Body movements that involves stretching all body areas from head to toes
Balancing while stretching all areas
Close-chain vs open chain stretches
Challenging postures to help you improve
Changing perspectives and out of the box thinking
Get into positions that you wouldn't imagine you can do, yet see it happen with practice
Flexibility/ Balance/ Strength building
Breathing techniques:
Many breathing techniques help different aspects of body functions:
Improve lung capacity/ oxygenation
Pelvic floor strengthening
Core control
COPD- Breathing problems
Helping digestion
Voiding- Bowels and bladder voiding/ organ motility
Rib cage mobility
Spinal mobility
Postural alignment
Incorporating yoga practice serves many needs and patient population:
Calming and focusing
Cancer Survivors
Chronic Pain
COPD/ Breathing
Feet Hands strength motor control
Graceful Aging
Kids/Teens
Moms/ Pregnancy/Menstruation
Pelvic Health/ Incontinence
Special Needs Population
Spinal Injuries/ Kyphoscoliosis/ Scoliosis
Variations in body types and shapes
Weight training
Videos:
Special Needs
Yoga for Down's Syndrome
Yoga for Kids
Scientific research on benefits of yoga from the National Institute of Health
Living Life's 5R's:
Relaxation and Reflection
Reduces Road Rage:
Learn how to use relaxation techniques and positive imagery, tranquil attitudes, to enhance driving experiences and safety